Get Your Online Presence Going Quickly and Easily
In today's fast-paced digital world, no-code tools are becoming increasingly popular as they empower individuals with little or no technical background to develop websites and apps with ease. With so many no-code developer tools available, it can be a daunting task to find the perfect fit for your needs. In this comprehensive comparison article, we'll dive deep into six of the most popular no-code tools: Gumroad, Beehiiv, Notion, Canva, Senja, and Carrd. Discover their unique features, strengths, and weaknesses as we help you make an informed decision.
Gumroad is a powerful no-code platform designed for creators to sell their digital products and services without hassle. Its straightforward interface allows users to create a customizable storefront with personalized branding, payment processing, and digital product delivery. Additionally, Gumroad offers advanced features such as analytics, customer management, and email marketing tools, making it an excellent option for content creators and online entrepreneurs looking to scale their business.
Beehiiv is an innovative no-code development platform that enables users to build dynamic web applications with ease. Focused on streamlining the app creation process, Beehiiv offers an intuitive drag-and-drop interface with a wide range of pre-built templates and components. With its real-time collaboration features, Beehiiv is perfect for teams working on app development projects. Its scalable infrastructure and powerful integration capabilities make it a top choice for businesses looking to optimize their web applications.
Notion is an all-in-one no-code productivity tool that combines note-taking, project management, and collaboration features into a single platform. With its versatile design, users can create custom databases, organize documents, and manage tasks with ease. Notion's highly customizable interface allows for seamless team collaboration, making it a go-to choice for businesses and individuals seeking an efficient way to manage projects and workflows.
Canva is a popular no-code graphic design tool that enables users to create stunning visual content with ease. Its intuitive drag-and-drop interface offers a vast library of templates, fonts, and images to choose from, making it simple for users to design eye-catching graphics for their websites and apps. Canva also provides advanced features such as brand kit management and team collaboration, making it an excellent option for businesses looking to streamline their design process.
Senja is a user-friendly no-code website builder designed to help users create responsive, professional websites with ease. Its intuitive interface offers a wide range of pre-designed templates, customizable elements, and powerful integrations, allowing users to build feature-rich websites without the need for coding expertise. Senja's built-in SEO tools, along with its e-commerce and blogging capabilities, make it a versatile choice for businesses and individuals looking to create a robust online presence.
Carrd is a no-code platform specializing in creating sleek, single-page websites for personal and business use. With its straightforward interface, users can quickly design fully responsive sites with minimal effort. Carrd offers a selection of stylish templates and customizable elements, making it an excellent choice for individuals and businesses seeking a simple yet effective online presence.
Conclusion:
In conclusion, each of the no-code tools discussed—Gumroad, Beehiiv, Notion, Canva, Senja, and Carrd—offer unique features tailored to specific needs. However, if we focus on ease of use and speed to market with an end product, Carrd stands out as the top choice.
Carrd's straightforward interface and specialization in single-page websites make it exceptionally easy for users to quickly create an online presence. With its stylish templates and customizable elements, users can design fully responsive sites without any coding knowledge or prior experience. Carrd's simplicity and efficiency enable individuals and businesses to rapidly establish an online presence, making it the ideal option for those seeking a fast and user-friendly no-code tool.
Ultimately, it's essential to consider your specific requirements and objectives when choosing a no-code platform. Each tool offers its own set of advantages, so it's crucial to select the one that best aligns with your needs and goals.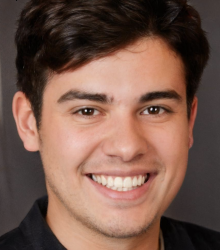 Latest posts by Daniel M. – Co-Founder and Technical Advisor
(see all)