Introduction
Are you an aspiring entrepreneur, chef, or food enthusiast who wants to create a visually stunning and functional recipe website without coding? No-code tools are the perfect solution to help you build your dream site in no time. In this article, we will guide you through the process of building a recipe website using no-code platforms, from choosing the right tools to publishing your site for the world to see. Follow this step-by-step guide, and you'll have a beautifully designed and feature-packed recipe website up and running in no time.
Choose the Right No-Code Platform
Selecting the right no-code platform for your recipe website is a crucial first step. With so many no-code tools available, it's essential to choose one that fits your needs and offers a user-friendly interface. Two popular no-code platforms that cater to building websites are Webflow and Wix. Both platforms offer a plethora of features, including customizable templates, drag-and-drop builders, and responsive design capabilities. Evaluate the platforms based on pricing, functionality, and ease of use before making your decision.
Select a Template and Customize Your Design
Once you have chosen your no-code platform, browse through the available templates to find a design that suits your recipe website's theme and purpose. Most no-code tools offer templates specifically designed for food and recipe-related websites, ensuring a seamless user experience. Customize the chosen template to reflect your brand identity by changing colors, fonts, and images. Don't forget to optimize your site's layout for mobile devices, as more people access websites from their smartphones.
Add Key Website Features
Your recipe website must include essential features that make it easy for visitors to browse, search, and save recipes. Add a search bar, categories, and tags to make it simple for users to find their desired recipes. Incorporate social media sharing buttons to encourage users to share their favorite recipes with their followers. To enhance user engagement, consider adding a comments section or a rating system for users to leave feedback on your recipes.
Integrate Recipe Management and Storage Tools
One of the critical components of a recipe website is an organized and efficient way to manage and store recipes. No-code platforms often provide in-built tools for content management, or you can integrate third-party apps like Airtable or Notion. These tools allow you to create databases for your recipes, with fields for ingredients, cooking times, and images. By implementing efficient recipe management and storage tools, you'll be able to easily update and expand your website as your recipe collection grows.
Optimize for SEO
To ensure your recipe website ranks high in search results, it's essential to follow SEO best practices. This includes optimizing your site's content, URL structure, and meta tags. Use keyword research tools like Google Keyword Planner to identify relevant keywords and phrases to target. Incorporate these keywords naturally into your content, headings, and image alt tags. Creating a blog with helpful articles related to cooking and recipes can further improve your site's SEO and drive more organic traffic.
Relevant Plugins and APIs to Consider
Tasty Recipes Plugin (for WordPress): If you choose to build your recipe website on WordPress, the Tasty Recipes plugin is an excellent option. This plugin allows you to create and display visually appealing, SEO-friendly, and easy-to-read recipe cards. It also provides adjustable serving sizes and an automatic nutritional information calculation feature.
WP Recipe Maker (for WordPress): Another useful plugin for WordPress-based recipe websites is WP Recipe Maker. It offers an easy-to-use interface for adding recipes with rich snippets for improved SEO. The plugin also includes features like ingredient links, printable recipes, and user ratings.
Spoonacular API: Spoonacular is a comprehensive food, recipe, and nutrition API that offers a wide range of functionalities. By integrating the Spoonacular API into your no-code recipe website, you can access thousands of recipes, ingredient information, meal planning, and nutrition analysis features. This API can enhance your site's content and make it more dynamic.
Yummly API: The Yummly API is another popular option for recipe websites. Yummly offers access to a vast database of recipes from around the web, complete with search filters like cuisine, ingredients, allergies, and more. By incorporating the Yummly API, your website users can access a diverse range of recipes without leaving your site.
Before integrating any plugin or API, ensure that it is compatible with your chosen no-code platform. Some platforms may require additional integration tools or workarounds to implement these functionalities seamlessly.
Publish and Promote Your Recipe Website
Once you're satisfied with your recipe website's design and functionality, it's time to hit the publish button. After your site goes live, promote it on social media platforms and other online channels. Join relevant online communities and forums where you can share your recipes and attract interested visitors. Don't forget to track your website's performance using analytics tools like Google Analytics to make data-driven improvements and grow your audience.
Conclusion
Building a recipe website using no-code tools is a practical and efficient way for food enthusiasts, chefs, and entrepreneurs to share their culinary creations with the world. By selecting the right no-code platform, customizing your design, adding key features, and integrating recipe-specific plugins or APIs, you can create a visually stunning and user-friendly website that caters to all your visitors' needs. With a focus on SEO optimization and promotion, your recipe website will attract a growing audience of food lovers. So, go ahead and embrace the power of no-code tools, and turn your dream recipe website into a reality. Happy cooking and sharing!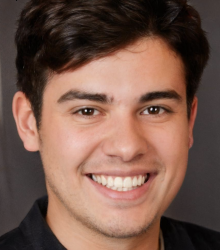 Latest posts by Daniel M. – Co-Founder and Technical Advisor
(see all)